Pagina 4 van 5
Bestellen van honingetiketten.
Iedere pot honing die wordt verhandeld of geschonken moet voorzien zijn van een honingetiket.
Ieder etiket moet minstens volgende informatie bevatten:
naam en adres van de imker.
naam van het product (honing - lentehoning - zomerhoning,...).
netto gewicht.
vervaldatum (max. 2 jaar na de oogst).
lotnummer of een evenwaardige aanduiding.
land van herkomst.
Bijkomend kunnen de gepaste bewaar- of gebruiksvoorwaarden worden vermeld. Dergelijke vermelding moet duidelijk zijn.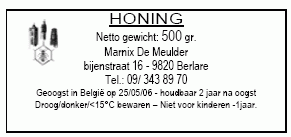 De Gentse Imkersvereniging stelt eenvoudige etiketten ter beschikking van zijn leden. Neem voor verdere informatie contact op met het secretariaat.