Wetgeving
De imkerij is onderworpen aan bepaalde wetgeving. Naast de verplichting tot registratie bij het Federaal Agentschap voor de Voedselveiligheid moet iedere honingpot voorzien zijn van een reglementair honingetiket. Ook voor de plaatsing van bijenvolken is bepaalde wetgeving van toepassing.
Registratie bij het FAVV
Het Federaal Agentschap voor de Veiligheid van de Voedselketen heeft tot doel te waken over de veiligheid van de voedselketen en de kwaliteit van ons voedsel, ter bescherming van de gezondheid van mens, dier en plant.
Het FAVV voert jaarlijks bij menig imker controles uit.
Dit om eventuele antibiotica of andere niet toegelaten bestanddelen in onze honing op te sporen.
Verder worden er ook staalnames van bijenvolken uitgevoerd met het doel een beter zicht te krijgen op ziektes die in de bijenvolken aanwezig zijn.
Al wie honingbijen heeft is wettelijk verplicht zich te registreren bij het voedselagentschap.
De registratie heeft voor de gewone hobby-imker geen financiële gevolgen. Dit op voorwaarde dat je niet meer dan 24 bijenvolken bezit.
Hoe registreren?
Het volstaat om dit vooraf ingevulde document te downloaden en in te vullen. Wens je het document aan te passen dan kan je het ook verkrijgen in Word.
Wie niet via deze weg de registratieformulieren kan bekomen, kan die uiteraard aanvragen op het Dit e-mailadres wordt beveiligd tegen spambots. JavaScript dient ingeschakeld te zijn om het te bekijken. van onze vereniging.
Het ingevulde document kan je opsturen naar het FAVV.
Voor Oost-Vlaanderen is dit naar het volgende adres:
FAVV
Zuiderdok – Blok B 10de verd.
Gaston Crommenlaan 6/1000
9050 Gent.
Aanbevelingen van het FAVV voor het behandelen tegen Varroase.
Jaarlijks stuurt het FAVV een brief uit met aanbevelingen voor het behandelen van je volk tegen o.m. varroase. De laatste omzendbrief dateert van 28/04/2020 en is te raadplegen via deze Link.
Bestellen van honingetiketten.
Iedere pot honing die wordt verhandeld of geschonken moet voorzien zijn van een honingetiket.
Ieder etiket moet minstens volgende informatie bevatten:
naam en adres van de imker.
naam van het product (honing - lentehoning - zomerhoning,...).
netto gewicht.
vervaldatum (max. 2 jaar na de oogst).
lotnummer of een evenwaardige aanduiding.
land van herkomst.
Bijkomend kunnen de gepaste bewaar- of gebruiksvoorwaarden worden vermeld. Dergelijke vermelding moet duidelijk zijn.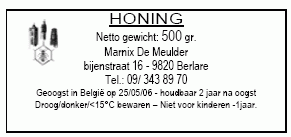 De Gentse Imkersvereniging stelt eenvoudige etiketten ter beschikking van zijn leden. Neem voor verdere informatie contact op met het secretariaat.
Plaatsen van bijenvolken
Behoud een minimum afstand van 20 m tot de dichtstbijzijde woning of openbare weg (VWB 07/10/1886, art. 88, 7°). Onder een woning verstaan we een normale verblijfplaats. Onder afstand verstaan we de afstand gemeten tussen het dichtst geplaatste bijenvolk en de dichtstbijzijnde buitendeur van de woning.
Deze afstand kan worden verminderd tot 10 m bij een volledig dichte beschutting van minstens 2 m hoogte. (Wet 13/06/1911).
Er worden geen voorwaarden gesteld aan het aantal bijenvolken dat mag worden geplaatst.